By Andrea L. Turpin, Baylor University
Southern Baptist Convention leader Paige Patterson was asked to step down early Wednesday morning following a meeting of the board of trustees of Southwestern Baptist Theological Seminary, where he served as president. With a following of over 15 million, Southern Baptists are America's largest Protestant denomination.
Trustees were responding to a petition by over 3,000 Southern Baptist women regarding what they called Patterson's "unbiblical" remarks on womanhood, sexuality and domestic violence. In an audio recording from 2000 that surfaced recently, Patterson was heard counseling a woman to stay with her abusive husband. In another sermon, he commented on a 16-year-old girl's body. And even as the trustees met, news broke that Patterson allegedly advised a female seminary student not to report a rape to the police.
It would be easy to assume evangelical Christian educators like Patterson uniformly discriminate against women because they believe the Bible teaches women to submit to men. But, as a historian of women, religion and higher education, I know that the story is not that simple: Evangelicals actually led in opening higher education to women.
Evangelicals pioneer women's higher education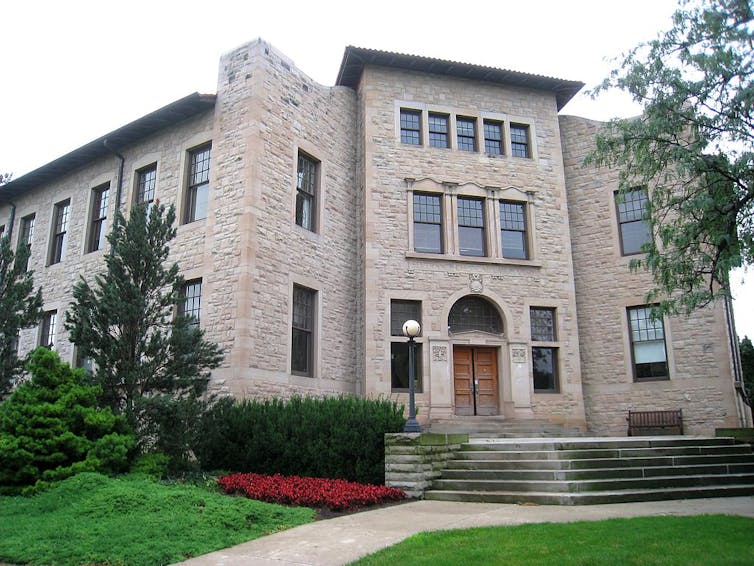 The very first college in world history to offer a bachelor's degree to women, Oberlin, did so in 1837, with the goal of training more people to spread the evangelical gospel.
In other words, theologically conservative Christians pioneered women's higher education for theological reasons.
I call these people "evangelical pragmatists" because they were willing to bend cultural norms about appropriate activities for women in order to get more hands on deck for God. For the same reason, they structured Oberlin to be unusually affordable and even admitted African-American students starting in 1835. Prior to this time, only a handful of African-Americans are believed to have graduated from any American college.
Remarkably, the first and longest standing single-sex institution of higher education for American women, Mount Holyoke, was founded in 1837 by evangelical pragmatists for the same reason. Mount Holyoke was only a three-year institution at its founding, and it did not immediately admit African-Americans. But it was the most advanced and affordable single-sex education available to American women at the time.
Evangelicals historically disagree on women
Even in the 1800s, when almost all ministers were men, Oberlin president Charles Finney, one of the most famous evangelists of that era, allowed a woman, Antoinette Brown Blackwell, to enroll in Oberlin's attached theological seminary. Members of Oberlin's faculty disagreed on whether the Bible permitted women to preach, but they supported Christian women getting the best education possible.
Unlike the founders of Oberlin and Mount Holyoke, not all evangelical educators believed in theological education for women and their role in the church – a disagreement that continues to the present.
The problem is that the Christian scriptures contain some passages that affirm absolute equality between men and women – which is truly radical for the time they were written. Other passages, however, seem to teach divinely ordained roles for men and women.
Even Christians who agree that the Bible is a reliable communication from God to humankind disagree on the meaning of the teachings on gender difference. The contentious debate about those passages has often centered around questions such as: Were they simply advice to women and men in past cultures on how to act wisely in those contexts, or did God intend those roles to be binding at all times?
Modern Southern Baptists and women
Since the 1980s, the Southern Baptist Convention has fallen into what is called the "complementarian" category that believes God intended different gender roles for all times. In particular, Paige Patterson was a leader in the "conservative resurgence" within the denomination that led to a more restrictive interpretation of the Bible.
The SBC statement of belief subsequently published in 2000, The Baptist Faith and Message (BFM), asserts, "While both men and women are gifted for service in the church, the office of pastor is limited to men as qualified by Scripture." Many Southern Baptist seminaries interpret this ruling to mean that the professors who train pastors should also be men.
Indeed, the thousands of Southern Baptist women who signed the petition against Patterson explicitly affirmed SBC doctrine and did not ask for women's ordination. They, and many Southern Baptist men, believe that while women and men have distinct roles to play, they should receive equal hearing and respect.
Many of the first women to attend Oberlin would have agreed with the BFM statement as well, although Oberlin also graduated early Christian feminists like Lucy Stone, who founded the American Woman Suffrage Association and was one of the first women to keep her maiden name after marriage.
Thus, even evangelicals who agree on different roles for the sexes disagree on what types of educational and church leadership opportunities women should have. "Culture warrior" Christians, focused on defending the accuracy of the Bible against liberals, have tended towards being more restrictive of women's opportunities. Pragmatists, who are more focused on spreading the Christian message, have, on the other hand, tended to open up opportunities for women.
Prominent among Southern Baptist pragmatists is women's Bible study teacher Beth Moore. She recently penned an open letter to Southern Baptist men about the sexism she has encountered in the denomination. Moore noted many men use her lack of formal theological training as an excuse to discount her, but that she was unwelcome when she sought to attend Southwestern Seminary in 1988. Even today only three of the seminary's 38 faculty members are women. All three teach in a separate women's studies department.

With the upcoming June annual meeting of the Southern Baptist Convention following closely on the removal of Patterson, it remains to be seen whether the denomination will follow Moore's lead and open more opportunities to women.
Editor's note: This article was originally published on The Conversation. Read the original article.
---
Andrea L. Turpin, Associate Professor of History, Baylor University
Advertisement