By Alistair Scott, Edinburgh Napier University
As the Edinburgh TV Festival delegates took their seats for the 43rd MacTaggart Lecture, you could hear the murmurs of anticipation. For the first time since these lectures began in 1976, the keynote speaker was young, black and female.
At last the British broadcasting industry was acknowledging the need to address issues of diversity and inclusion from this prestigious platform by inviting a young British comedian from east London to take the floor. As he introduced her, Philip Edgar-Jones from Sky Arts acknowledged that the choice of Michaela Coel "truly breaks new ground, making you wonder what we've been doing all these years".
Over the next 45 minutes Coel gave a brave and challenging talk, presenting a revealing account of her own journey as a young creative talent from an immigrant Ghanaian family in Tower Hamlets. Famous as the award-winning screenwriter, producer and star of the E4 sitcom Chewing Gum, her skin colour, gender, age (just 30), and the relatively short time she has worked in television, all indicate very different credentials that set her apart from her predecessors.
Previous MacTaggart speakers have been drawn from established producers and executives who used the occasion to set out new approaches for media policy and regulation. They have included 37 men, two of whom (BBC director-generals, John Birt and Mark Thomson) did it twice. The fall-back position that made this a platform for the powerful was evident as only four women have taken the podium, yet three members of the Murdoch family (Rupert, James and Elizabeth) have had the honour.
As a creative talent with only a handful of credits, Coel stands out both as a new voice and a change of direction – there is also the fact that she is talented, provocative, shocking and funny.
Set up to commemorate James MacTaggart, an innovative Scottish TV drama director who died in 1974 aged just 46, early speakers included program makers who had known him, and their topics explored themes relevant to his work, such as redefining naturalism, taboos and censorship in television drama.
In many ways Coel's lecture marked a return to using this platform to challenge the media establishment rather than affirm it. Coel's speech told a different story, from the perspective of a self-confessed "misfit outsider", describing her own journey into the industry and challenging the production community to re-examine their attitudes to race and class, and to put people before profits.
Chewing gum dreams
Her personal account revealed the barriers that anyone from a working-class immigrant background faces before they gain the confidence and experience to take up a career in the creative industries. She explained how the ideas for her scabrously funny sitcom "Chewing Gum" were drawn from her own experience growing up in a social housing block in Tower Hamlets.
She painted a picture of cruel and casual racism at school and in her neighbourhood, like finding excrement on the doorstep, then through the letter box. When faced with bullying and insults at an all-girls secondary school, she learned to laugh at adversity. When she was teased for her "big lips" she threw it back at her tormentors, insulting herself and making it funny. She was a girl who "didn't give a fuck":
A coconut: an insult used to describe one who is black on the outside but white on the inside, as you would imagine a coconut. Or you could just imagine looking at the first black girl in the school's history to join the Irish dance team; that's what I was. I performed, middle of the row, fackin' smashed it.
She fell in love with Jesus and later placed the conflicting emotions of a teenage evangelical Christian desperate to discover her sexuality at the centre of her comic character, Tracey Gordon. But mainly the lecture charted a personal journey that lays bare the discrimination and inequality across contemporary British society.
Coel spoke of her time at drama school where during improvisation, a member of staff asked her, "Oi, nigger, what you got for me?". She did not want to shrug this off, she wanted to address issues of colour and class, and change the narrative. With her own final project Chewing Gum Dreams, she did. She described how this performance piece would grow as her "baby" through short theatre runs, a stint at the National Theatre, and then find a development deal which led to the television commission for E4.
Based on her experience she made a plea that commissioners allow new writers to develop their own voices – nurtured rather than subjected to interference from people imposing their own views on experiences they know little about. And what better way to introduce new voices and develop the creativity of those who are currently excluded or whose voices are rarely heard.
Sexism, racism and television
But if the audience was starting to feel that Coel's experience demonstrates that the industry has moved in the right direction, she drew the lecture to a close by revealing how racism and sexual abuse still permeates.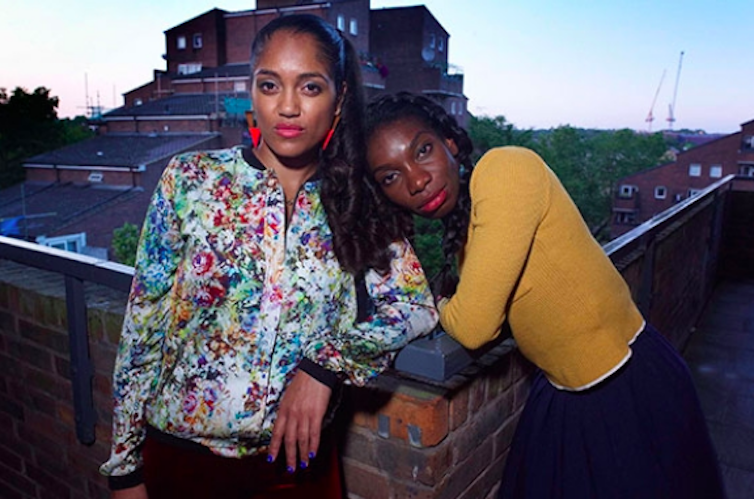 She drew attention to the "accidental" racism evident when filming on location, when the black actors were crammed into one trailer, and white actors afforded more space. After complaining to producers that "it looked like a fackin' slave ship" Coel insisted that things change.
She also revealed two shocking incidents where she had faced personal insult and sexual assault. The first at an industry awards party where a London producer felt within his rights to say to her: "Do you know how much I want to fuck you right now?" She was outraged and fled.
On another occasion she was sexually assaulted after she went out for a break while working at a production office. The initial reaction of producers revealed a distinct lack of empathy as they focused on the imminent programme deadline rather than any concern for her welfare. As a novice she was unsure how to react; in the end she got the care and therapy she needed, supplied by the TV company.
Summing up, Coel demanded that the industry face up to the damaging way it often treats people. She emphasised the need to be transparent, honest and supportive: the UK industry is a faulty system that needs to change. She ended with a simple question for the audience: "What part will you play?"
This was a MacTaggart lecture in which a strong yet vulnerable creative artist made a brave, funny and inspiring challenge to the TV industry to hold themselves to higher standards. The standing ovation that greeted Michaela Coel must now be followed by action.
Editor's note: This article was originally published on The Conversation.
---
Alistair Scott, Associate Professor of Film and Television School of Arts and Creative Industries, Edinburgh Napier University.
Advertisement