By Kim Haines-Eitzen, Cornell University
The recent report of widespread sexual abuse by priests in Pennsylvania has fueled increasing turmoil within the leadership of the Catholic Church. In July this year, Cardinal Theodore McCarrick, the former archbishop of Washington, resigned following allegations against him.
Opponents of Pope Francis are urging him to resign in light of allegations that he knew about McCarrick's behavior.
At a moment when a culture of secrecy, and what appear to be systematic cover-ups are leading to a crisis of faith, some people are asking whether priestly celibacy is at the root of these scandals.
The fact is for a long time the Catholic Church struggled with its interpretation of Scriptures on priestly celibacy. It wasn't until the 12th century that priestly celibacy became mandatory.
Scriptural basis for celibacy
In the middle of the first century, Paul, the most influential apostle of the early Christian movement, wrote a letter to a congregation of Jesus followers in Corinth, Greece. It contains the earliest record of a discussion about celibacy and marriage among "believers," as Christians were called at the time.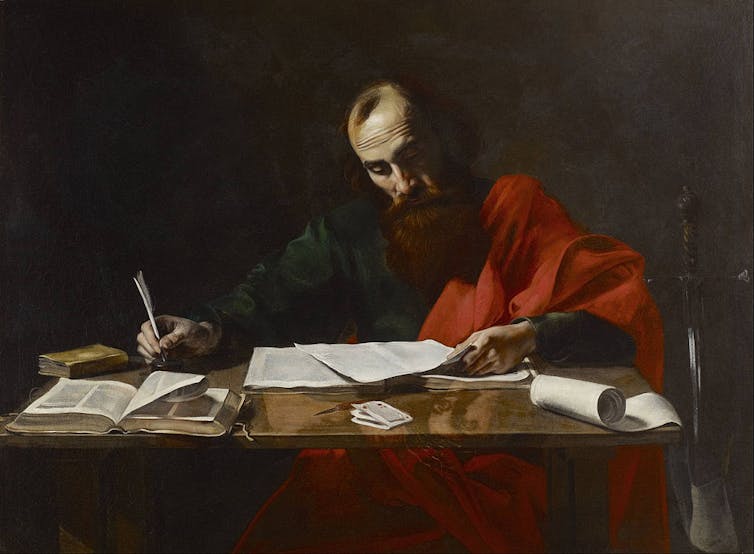 Apparently, the members of the church had written to Paul what appears to be a simple and specific argument in favor of celibacy: "It is well for a man not to touch a woman," they write. We do not know who wrote these words to Paul or why they made this claim.
But Paul's response to their claims provides a basis for later Christian views on marriage and celibacy, sex and self-control, and ethics and immorality.
He writes,
"Because of cases of sexual immorality, each man should have his own wife and each woman her own husband. The husband should give to his wife her conjugal rights, and likewise the wife to her husband. … Do not deprive one another except perhaps by agreement for a set of time, to devote yourselves to prayer, and then come together again, so that Satan may not tempt you because of your lack of self-control. This I say by way of concession, not of command."
For Paul, marriage was a concession: He appears to view it reluctantly as merely an acceptable choice for those who cannot control themselves.
He goes on to say, "I wish that all were as I myself am," implying at the very least that he is not married. And he confirms this in the passage that follows,
"To the unmarried and the widows I say that it is well for them to remain unmarried as I am. But if they are not practicing self-control, they should marry. For it is better to marry than to be aflame with passion."
Marriage, in Paul's view, is the lesser choice. It is for those who cannot control themselves. Although difficult, remaining unmarried and choosing celibacy, seems to be the higher ideal.
Interpretations of Paul
As a a scholar of early Christianity, I know that Scriptural interpretations are always dynamic; Scripture is read and understood by different Christians in different time periods and places. So, it is not surprising that a short time later, Paul's writings found new meaning as asceticism – the practices of self-control that included fasting, celibacy, and solitude –began to spread within Christianity.
A second-century expansion on the story of Paul, The Acts of Paul and Thecla, a largely fictional story about Paul's missionary efforts in what is now modern Turkey, casts Paul primarily as a preacher of self-control and celibacy. In this story, Paul blesses "those who have wives as if they have them not."
Such a phrase may sound strange to modern readers. But as monasticism grew within Christianity, some married Christian couples were faced with a problem: They did not want to divorce their spouses, because Scripture spoke against divorce. And yet they wanted to choose the life of celibacy. So these Christians chose to "live as brother and sister," or "to have wives as if they had them not."
At the same time, stories of failures to keep vows of celibacy abounded: stories of monks and nuns who lived together and bore children, stories of monks who took mistresses, and stories about behaviors that today would be considered sexual abuse.
These stories emphasized that temptation was always a problem for those who chose celibacy.
Celibacy and crisis
In the Middle Ages, the celibacy of the priesthood became a source of conflict between Christians. By the 11th century, it contributed to the formal schism between Roman Catholicism and Eastern Orthodoxy.
But the issues were far from resolved. Divergent views on mandatory celibacy for priests contributed to the reform movements in the 16th century. Martin Luther, a leader of the Protestant Reformation, argued that allowing priests to marry would prevent cases of sexual immorality. He drew upon Paul's letters for support of his views.
On the other hand, leaders of the Catholic Church's "Counter-Reformation," a reform and renewal movement that had begun before Martin Luther, did not advocate marriage, but sought to address corrupt practices among the clergy.
Desiderius Erasmus, for example, a 16th century Catholic scholar, wrote a powerful critique of corruption in the Catholic Church. His views may well have been shaped by the fact that he himself was the illegitimate son of a Catholic priest.
One of the most important developments in this period was the creation of the Society of Jesus, also known as the Jesuits, which sought to reform the priesthood in the face of accusations of sexual relations and corruption by, in part, improving the education of priests. In the founding rules of the Jesuit order, emphasis was placed on the importance of celibacy, training and preparation for missionary work, and serving the directives of the pope.
Pope Francis too is a Jesuit and has a long church history and tradition that he could draw from. The question is, at a time when the church is facing a crisis, will he show the way towards renewal and reform?

Editor's note: This article is republished from The Conversation under a Creative Commons license. Read the original article.
---
Kim Haines-Eitzen, Professor of Early Christianity, Cornell University
Advertisement